Today's Guest Author is the redoubtable Puffy the Magic Dragon. Thank you so much for this – it is, unfortunately, an occasion to be commemorated.
On November 29, 1948 Prime Minister Ben Chifley unveiled the first Holden 48-215, which became affectionately known as the "FX".
On October 20, 2017, the last Holden was built in Australia.
Think about that a moment.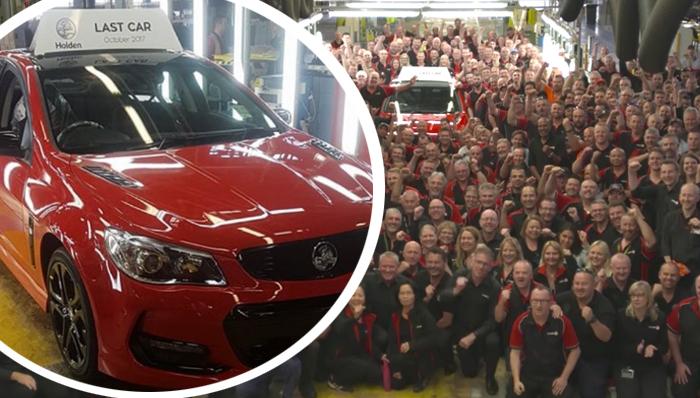 Today, no Prime Minister witnessed the closure of this proud industry. Where was our Coalition Prime Minister? He was on a Victorian radio station this morning declaring how 'sad' he is about it. PM Turnbull assures us the workers have found jobs, are studying or are retired. He has little to say about the effects on workers in related businesses, or the emotions and circumstances of the former workers saying goodbye to an era.
Now General Motors Holden is no longer manufacturing cars in Australia. To be accurate nobody is manufacturing cars in Australia anymore. No more of these will be exported.
The Elizabeth factory is the reason the Town of Elizabeth was built. But it is not just Elizabeth that suffers or South Australia. Our nation is the lesser for this loss. These manufacturing enterprises are as much research centres, trade schools, design hubs and robotics developers as they are car-builders. How dumb do you have to be not to support that? Today I watched with many others from all over Australia. I spoke to one family who flew in to Adelaide just to be here today to say goodbye. Anger at the politics behind this disgrace is high.
So many people including those from allied industries and businesses were employed because we made vehicles.
But a short-sighted union-hating Liberal/National Coalition government brought that to an end. We lose an industry, we lose the expertise, the skills and the manufacturing base because of their ideology. None of it made economic sense.
The last Holden rolled off the line today, and the workers were bussed out to a farewell shindig.
The media cameras recorded the event. Maybe Joe Hockey can run it on loop while he smokes his cigars.
Labor Opposition Leader Bill Shorten hit the nail on the head talking to a group of school children.
"Look over there, kids, at that old Holden. Australia used to be a country that built cars," Mr Shorten said.
"As of tomorrow, we're not building cars anymore and the silly old government of the Liberals just couldn't give a stuff."
He assured his 20 pupils that manufacturing, engineering, maths and science jobs would still be around into the future. (source SBS http://www.sbs.com.au/news/article/2017/10/19/shorten-gives-kids-holden-history-lesson )
Labor says Prime Minister Malcolm Turnbull's lack of comment on the closure is proof his government does not care. Amen to that.
Finally, let's pay a tribute to the workers who made the whole thing work. My late husband, with 20 years of service after his immigration from England being one of them. A member of his union, of course, as a Spares Chaser, (he found parts to fill orders from dealers) he enjoyed his work and made a good life on a worker's wage.
A proud working-class man alongside proud working-class women. Building Australian cars.