The faux election campaign is in full swing, with Labor announcing real policies and the Coalition faffing about with busywork, flatulent slogans, and – it goes without saying – Hi Vis in all its fluorescent glory.
Employment Minister Michaelia Cash Prime Minister Malcolm Turnbull inspect a building site in Canberra – hey, isn't something missing?
Not that Turnbull will ever be able to equal the patron saint of Hi Vis and – even more so – Fluoro, tny bbutt: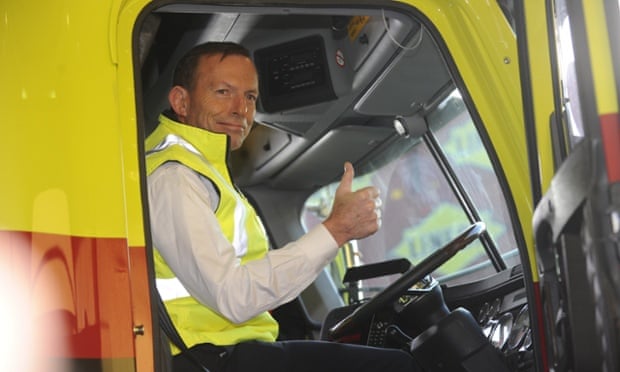 While on the subject of fluoro, how could I resist a bit of fluoro lycra and the usual snouts in the latest trough extravaganza?
Kevin Andrews, left, Angus Taylor, Josh Frydenberg, David Gillespie and Tony Abbott prepare to leave Canberra yesterday for the 1000km Pollie Pedal. 'Nothing better symbolises the best in our humanity than the things we do for love'. PUKE
Sensible tortoise!
Enjoy the evening, everyone!