Sir Duke Prince Phil the Greek.
(Image Credit: Bill Leahy; Courier-Mail)
Career advice from an old seppo
because of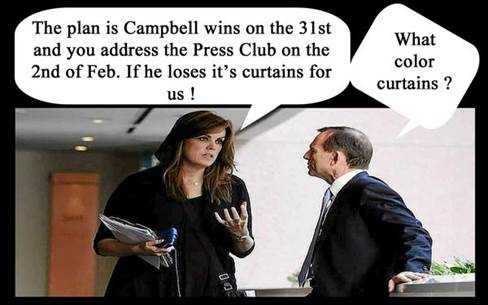 so
(Image Credit: Alan Moir; Fairfax)
And – at long last – some of those overpaid journo-things are waking up . . .
. . . although
Today we learn that Our Dear and Fearless Leader . . .
. . .was asked why both his Foreign Minister, Julie Bishop, and Communications Minister, Malcolm Turnbull, ranked above him in polls on preferred prime minister.

"This is a very strong team," he said. "And one of the reasons why so many members of the team are able to perform so well is because they've got a very good captain.

"It takes a good captain to help all the players of a team to excel."

Following these comments, a Government source wanted it known that the Prime Minister had a large hand in the success of Ms Bishop in Foreign Affairs and Scott Morrison in Immigration, as these matters were decided in the National Security Committee of Cabinet, which Mr Abbott chairs.
A weird combination of hubris – writ large – and flipping the switch to vaudeville with a vengeance.
As First Dog on the Moon put it, Our Dear and Fearless Leader has transcended satire and become an Official Australian Embarrassment
(Image Credit: First Dog on the Moon; The Guardian)
Popcorn time!
(Image Credit: Bakery and Snacks)